Patricia Pollard: An example of a system gone wrong
There are many cliques around the Harris County Criminal Justice Center. In 2012, we saw these factions unite to support a false narrative about then District Attorney Pat Lykos and tarnish many good people in the process.
In the old days, for example, the courtrooms of Mike and Devon Anderson were used as dunking booths for certain prosecutors. They could make or break careers at the Harris County District Attorney's Office. If the Andersons did not like a prosecutor in their court, they would simply send an email or make a call to the sixth floor of the DA's Office and the prosecutor was forever marked as a dud.
Having heard a few of these stories, it is hard to understand why some of these duds actively supported Mike Anderson's campaign for District Attorney in 2012. Perhaps we can chalk it up to Stockholm Syndrome. As time has passed, it is becoming clearer every day that these people simply want to protect the system and good ole boy/gal network at all costs.
Lisa Falkenberg, Houston Chronicle, and Radley Balko, Washington Post, recently wrote a series of stories about the Harris County criminal justice system (links to Lisa Falkenberg's Houston Chronicle series 1, 2, 3, 4, 5 and Radley Balko's Washington Post stories 1,2 ). They illustrate their argument through the view of Ericka Jean Dockery, a former girlfriend of an alleged cop killer, Alfred Dewayne Brown. We don't know if Alfred Dewayne Brown is guilty or innocent; but, that is not the point. Some would like to label opponents of the current (in)justice system as lovers of cop killers; however, basic logic demonstrates the fundamental flaw in that claim. If you want the criminal justice system to be fair and just and convict the guilty, read on.
On April 3, 2003, Alfredia Jones, an employee at a check cashing store, and Charles Clark, a Houston Police Department Officer, were murdered during a store robbery. Ericka Dockery, Brown's then-girlfriend, testified for the State during Brown's trial. The following is an explanatory excerpt from an opinion from the Texas Court of Criminal Appeals (emphasis added):
Erika Dockery, who testified for the State, was appellant's girlfriend at the time of the offense and lived with him at the Plum Creek Apartments. Her testimony established that appellant demanded that she lie to the grand jury investigating the crime and provide him with an alibi. She obliged, but later admitted that she had lied. She was charged with aggravated perjury, a fact that was made known to the jury, and she admitted to drug use. Dockery also testified that on the day of the crime, appellant was acting very unusually. He telephoned her and told her to watch a news broadcast regarding the crime, and she testified that when she saw him later that same day, he appeared nervous and was moaning and crying. Most importantly, Dockery testified that she had regularly visited appellant at the jail after his arrest, and on the last day she visited him, she pleaded with him: "I need – – I want to know the truth. Did you do this? . . . I want to know. Did you kill the lady? Did you shoot the policeman? I need to know. Did you do it?" Appellant eventually responded by putting his head down and saying, "I was there. I was there."
On August 22, 2003, Dan Rizzo, an Assistant District Attorney, filed thee cases of aggravated perjury against Ericka Jean Dockery in cause numbers 959250, 959251, and 959252. On the complaint, Rizzo listed the following probable cause for the cases:
Affiant Pat Smith, a Harris County District Attorney Investigator read the official transcript of the grand jury testimony of the defendant Eric[k]a Jean Dockery where the defendant testified before the 208th Grand Jury of Harris County, Texas on Monday, April 21, 2003[.] Affiant read that the defendant testified on two occasions before the above grand jury that her then boyfriend, Alfred Brown, was present in her residence at 8:30 am on April 3, 2003[.] Affiant further states that said Alfred Brown is charged with the capital murder of Houston Police Officer C Clark and civilian A Jones that is alleged to have occurred on April 3, 2003 at 9:45 am. Affiant believes that the testimony of the defendant is material in that it is inconsistent with Alfred Brown's guilt in that it would help give Alfred Brown an alibi for said capital murder[.] Affiant further read the Houston Police Department offense report concerning the above[-]described capital murder where two of the charged co[-]defendants of Alfred Brown admit that they committed an aggravated robbery with Alfred Brown on April 3, 2003 where he, Alfred Brown shot and killed Officer C Clark[.]

Affiant further read the official transcript of the grand jury testimony of the defendant where the defendant testified on April 21, 2003, before the 208th Grand Jury of Harris County, Texas and denied making a telephone call to one of the co[-]defendants of Alfred Brown, Eljah Joubert, at 10[:]26[ ] am on April 3, 2003. Affiant reviewed a detailed list of the cell phone activity of Elijah Joubert for the date April 3, 2003, which showed that Joubert received a call from Alma Berry's home at 10[:]26[ ]am on April 3, 2003[.] Affiant read the Houston Police Department Offense report concerning the capital murder described above where Alma Berry said that on April 3, 2003, the defendant worked as a health care provider for Alma Berry at her home[.] Ms[.] Berry stated that she never called Elijah Joubert's cell phone on April 3, 2003[.] Ms[.] Berry also stated that the defendant was present in her home working on April 3, 2003[.] Affiant believes that the statement where the defendant denies calling Joubert as material in that the defendant is attempting to [provide an] alibi [for] Brown, by saying that Brown and Joubert were not together during the morning of April 3,2003[.]
Let's review the timeline so far. The murders occurred on April 3, 2003. On April 21, 2003, Dockery was brought before the 208th Grand Jury. Rizzo filed three aggravated perjury cases against Dockery on August 22, 2003. These three cases were indicted by the 351st Grand Jury on October 10, 2003.
On April 5, 2003, Rizzo filed two criminal complaints against Brown in cause numbers 0944751 and 0944752. The officer listed as the affiant is Houston Police Department officer Breck McDaniel, the husband of Assistant District Attorney Katherine McDaniel. These cases were indicted by Mike Anderson's grand jury (262nd District Court) on July 16, 2003.
On July 26, 2005, the 228th Grand Jury (re-)indicted Brown for capital murder in cause number 1035159. This indictment was likely Rizzo's effort to change the charging instrument's language prior to trial. Previously, Rizzo filed two separate capital murder cases for each victim. The new indictment merged both victims into one capital murder charge: robbing Jones and killing Clark, a police officer.
According to the notes on the Harris County District Clerk's website, jury selection in Brown's case occurred from August 29 through September 16, 2005. The trial began on October 10, 2005. On October 24, 2005, Brown was removed from the courtroom during the trial because he loudly proclaimed his innocence during the prosecutor's closing argument asking the jury to take Brown's life. Specifically, Brown shouted, "He's trying to take my life away for something I didn't do. It's hard sitting here and listening to him trying to take away my life for something I didn't do." The jury returned a death verdict for Brown on October 25, 2005.
On November 4, 2005, Dockery received two years of deferred adjudication (a type of probation) in the 351st District Court in cause number 959250. On the dismissals in cause numbers 959251 and 959252, Rizzo checked the reason for dismissal as "The Defendant was convicted in another case."
| | |
| --- | --- |
| April 3, 2003 | Alfredia Jones and Houston Police Department Officer Charles Clark murdered in a check cashing store robbery |
| April 5, 2003 | Rizzo files two cases of capital murder against Brown |
| April 21, 2003 | Dockery brought before the 208th District Court |
| July 16, 2003 | Mike Anderson's grand jury (262nd District Court), led by Patricia Pollard, indicts Brown in two capital murder cases |
| August 22, 2003 | Rizzo files three cases of aggravated perjury against Dockery |
| October 10, 2003 | 351st grand jury indicts Dockery in three cases of aggravated perjury |
| July 26, 2005 | 228th Grand Jury re-indicts Brown a month before trial begins |
| August 29 – September 16, 2005 | Voir Dire in Brown capital murder case |
| October 10 – 25, 2005 | Trial in Brown capital murder case |
| November 4, 2005 | Dockery receives two years of deferred adjudication for one case of aggravated perjury |
From all accounts, the evidence against Brown at trial included testimony from two star witnesses: (1) a co-defendant who received a deal that saved him from the death penalty and (2) Dockery, a woman who was charged with aggravated perjury after questioning from a grand jury. While Falkenberg and Balko's reporting has focused on Dockery, we believe that the story is much bigger than one case.
On a rotational basis, the 22 felony district court judges in Harris County select three to five grand jury commissioners. These commissioners are charged with compiling a list of citizens to be summoned as grand jurors.
Five grand juries actively serve at any given time. Beginning in January of each year, five judges, on a numerical rotation, select and empanel a grand jury, which consists of twelve Harris County citizens. These citizens meet for two days each week for three months. To qualify for service, a grand juror must not have served on a grand jury within the last year. In other words, a citizen may serve on a grand jury every other year (e.g., 2014, 2016, 2018).
In the Dockery/Brown cases, we know that Dan Rizzo used three different grand juries in 2003. So, immediately following the murders, in April 2003, Rizzo questioned Dockery in front of the 208th grand jury. 102 days after Rizzo filed the two capital murder cases against Brown, the 262nd grand jury indicted Brown in both cases. Then, in October 2003, Rizzo presents Dockery's cases to a third grand jury, the 351st grand jury, and they indict her in all three aggravated perjury cases. Why would Rizzo wait so long to present Brown's case to a grand jury? The answer may be in the composition of Mike Anderson's 2003 grand jury.
The foreman of Mike Anderson's grand jury in the summer of 2003 was an individual named Patricia (Tricia) S. Pollard. That name should sound familiar to you.
To date, Pollard has served on six Harris County grand juries: five as foreman and one as assistant foreman. In her online bio, Pollard touts her service as grand jury foreman in May 2003. She claims that, under her leadership, the 262nd grand jury handled the greatest number of cases in Harris County Grand Jury history. How does she know this? And, why is she proud of this?
Pollard's 2003 grand jury included Andy Geffert, a former Houston Police Department Officer. In 2004, Anderson came under fire for putting Geffert on a grand jury, especially one that returned indictments in Brown's case, which involved the capital murder of a Houston Police Officer.
Following Pollard's 2005 service, she wrote a letter to Governor Rick Perry and all members of the Texas Legislature claiming that she had discovered massive Medicaid fraud during her tenure on the grand jury. On January 18, 2006, she was asked to testify before the Senate Finance Committee. In her letter, Pollard alleged a "widespread, massive and repeated" fraud. During the hearing, several senators pushed her on this strong statement. Ultimately, Pollard conceded that she had no evidence to substantiate her allegation. Watch the video and see Pollard in action for yourself. As stated during the hearing, Mike Anderson was made aware of Pollard's letter; so, he knew that she was a loose cannon as early as 2005 – 2006.
On September 14, 2006, Pollard donated $5,000 to Texans for Rick Perry. In March 2007, Governor Perry appointed Pollard to a six-year term on the Texas State University System Board of Regents and she was sworn in to this position by Devon Anderson. Pollard made two donations to Devon Anderson's judicial campaign: one on September 27, 2007 and another on September 4, 2008. So, in 2011, when it came time to take back the courthouse from Pat Lykos, the Andersons went to their go to gal, Trisha Pollard.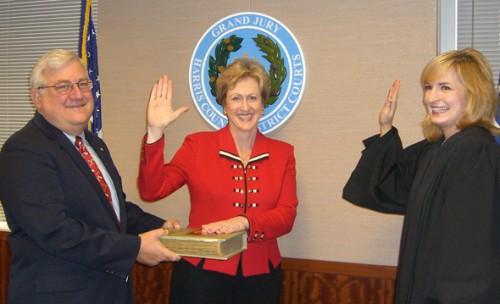 During the DA campaign, David Jennings asked Mike Anderson about Patricia Pollard. Jennings documented the conversation.
Mike told me that he first met her about 10 years ago at a Habitat for Humanity event. She told him that she was a retired lawyer and would like to be on a grand jury. He thought that would be a great thing and appointed her to two grand juries during his term as a judge. He then told me that she excelled at the work and that any judge at the courthouse would fight to get her on their grand juries. He stated that she was very efficient and went out of her way to investigate cases. He mentioned one in particular in which she found out that an organization wasn't doing criminal background checks on their volunteers, wrote a letter to the Governor, and got the policy changed. He also told me that Bellaire is a small community, so he runs into her from time to time but that was the extent of their relationship. I also asked him, if that was the extent of their relationship, why did his wife perform the duty of swearing Ms. Pollard in as a regent of Sam Houston State University? He told me he really didn't know but in any case it had nothing to do with a grand jury.
On December 29, 2010, 185th District Court Judge Susan Brown paid $2,925 to the law firm of Devon Anderson and Brock Thomas for "Legal Services and Legal Research." Then, in August 2011, the 185th Grand Jury was sworn in for a three-month term and Brown appointed Pollard as the foreman. After Brown held secret meetings with the grand jury in violation of Texas law, the grand jury "went rogue" and began a witch hunt against Pat Lykos under the guise of the breath alcohol testing (BAT) vans. You should know that these BAT vans continue to be used by all law enforcement in Harris County, including the Houston Police Department.
You know the rest of the story. The Anderson campaign and consultant Allen Blakemore used the 185th grand jury "investigation" to defeat Lykos and "take back" the courthouse. Meanwhile, in 2013, Pollard served on yet another grand jury – this time, for Kristin Guiney in the 179th District Court.
| | | |
| --- | --- | --- |
| May 2003 | Grand Jury Foreman | 262nd District Court – Mike Anderson, Judge |
| August 2005 | Grand Jury Foreman | 262nd District Court – Mike Anderson, Judge |
| February 2007 | Grand Jury Foreman | 177th District Court – Devon Anderson, Judge |
| November 2009 | Grand Jury Foreman | 262nd District Court – Mike Anderson, Judge |
| August 2011 | Grand Jury Foreman | 185th District Court – Susan Brown, Judge |
| 2013 | Grand Jury Assistant Foreman | 179th District Court – Kristin Guiney, Judge |
While these facts are ripe for a John LaCarré or John Grisham thriller, they are the truth about the criminal justice system in Harris County. We currently have an appointed District Attorney who faced no opposition in the primary and apparently thinks that it is acceptable to use career grand jurors to indict defendants and conduct political inquisitions.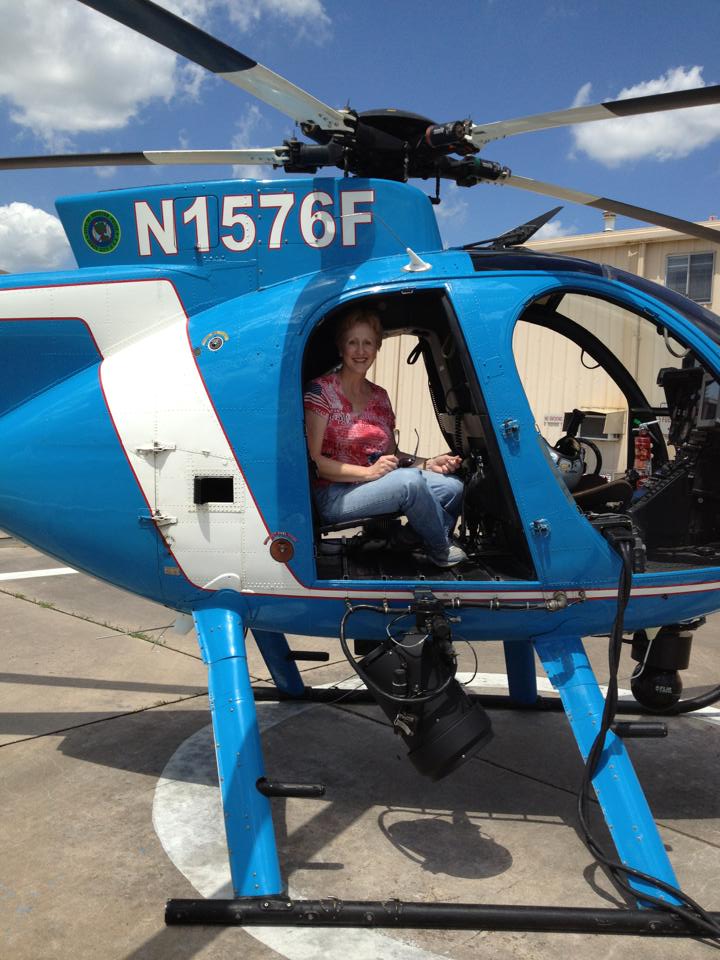 We need to eliminate the Harris County grand jury system's commissioner picked "key-man" selection system to insure that the citizens on our grand juries are representative of our diverse community. Harris County is the last major metropolitan area in Texas to maintain this system and it is time for it to go.
(David Jennings contributed to this post.)