On the same day that the Harris County Republican Party was holding another poll watcher training session, I wrote this:
This is particularly true in Harris County, especially under Chairman Paul Simpson. Simpson has focused totally on building a solid organization and a GOTV campaign and very little effort has been spent on messaging or expanding the party. Since this will be the first campaign that his policies are in full effect for, it will be very interesting to see if his strategy works. Republicans win, he gets all the glory. Republicans get swept, well, you know the drill.
Well, guess what. Harris County Republicans got swept. So the drill begins.
Simpson decided to get in front of the drill, sending me this email the day after the election:
Dear David —

Thank you for your vote, your time, your hard work, your financial support, and your dedication this election season!

This was an election to remember, with some great wins and some tough losses. After record-setting Republican results in 2014 and 2015, this year reminds us that there are no permanent victories in politics–and no permanent defeats. The fight goes on, and we will win again!

With Republicans controlling the White House and Congress, we look forward to restoring balance to the Supreme Court and conservative reforms that will clear the way for all Americans and their families to achieve their goals and dreams.

We are a strong party, and we will continue to be a strong party because of each and every one of you.
We could not have accomplished all we did this November without your support.

Thank you!
I'm pretty certain that Simpson didn't really mean to thank me specifically but that's the nature of email blasts. He just got his arse handed to him but by golly Big Jolly, look at 2014 and 2015! Um, what exactly happened in 2015? And great wins for any Republican in Harris County this year? Say what?
Former HCRP Chair Jared Woodfill was respectful and waited until the second day after Harris County Republicans were wiped out to say this:
Trump Wins!
Harris County Republicans Suffer Biggest Loss in History of the HCRP

Dear Friends,

Last night's presidential results were historic. For the first time in decades, Republicans will have a uniquely consolidated power base, controlling the White House, Senate, and House, as well as a majority of governorships. As a result, we should be able to appoint conservative justices, eliminate Obamacare, get rid of the Johnson Amendment (which censures the church), cut the national debt, open up the energy markets, protect religious liberties, and so much more. As my friends at AFA stated, "We were about to go over the cliff. The knockout punch was about to be delivered to the America that our Founding Fathers handed to us. We were about to lose the Supreme Court of the United States to the far left for a generation. Persecution against Christians was about to be amped up the likes of which we have never seen before. After all, Hillary Clinton called us an 'unredeemable basket of deplorables.'" In Donald Trump, we now have a pro-life President-elect, instead of one who supported partial-birth abortion, and believed that the taxpayers should pay for it.

But incredibly, Democrats swept to victory in ALL countywide offices in Harris County. This is the worst defeat for Republicans in the 71-year history of the Republican Party of Harris County.

I wish I could say that Harris County did as well as Donald Trump performed around the country. Unfortunately, under the leadership of Harris County Republican Party Chairman Paul Simpson, we suffered the greatest defeat in our history as a local party, as other Republican counties around the country were experiencing huge victories. Under the leadership of Republican Chairman Paul Simpson, Hillary Clinton swept Harris County by over 150,000 votes even when she lost nationwide to Trump. Republicans lost all Harris County countywide elections. This is an unacceptable result and the product of failed leadership.

What happened? Among other things, the Harris County Republican Party leadership fails to take a stand. They all but ignore social issues. The Harris County Republican Party leadership refuses to speak out for the unborn. The Harris County Republican Party leadership has run from biblical marriage. The Harris County Republican Party leadership has remained silent while a local Republican candidate brags about her Planned Parenthood endorsement. The Harris County Republican Party leadership has failed to take a stand against the radical LGBT political movement. The Harris County Republican Party leadership refused to engage in our efforts to defeat Annise Parker's "Bathroom Ordinance." And the Harris County Republican Party leadership refused to unite around the Republican nominee, Donald J. Trump. Their mantra was "Harris County Works. Vote Republican." This message would not cause anyone watching Wheel of Fortune to jump out of their seat and vote for the Republicans, nor would it motivate anyone watching football to get up and vote for the Republicans. Paul Simpson never addressed the issues that differentiate conservative Republicans from Democrats.

The election results in Harris County prove that 'Harris County doesn't work' when the local Republican party stands for nothing.

If we are going to win in 2018, leadership needs to change immediately. It is incumbent upon conservatives to stand up, speak up and refuse to accept local leadership that refuses to stand for our values. The values found in our Republican Party of Texas Platform.

Donald Trump is not our savior. Jesus Christ is our King. However, Donald Trump has chosen to surround himself with many Godly men and women like Dr. Ben Carson, Gov. Mike Pence, Gov. Mike Huckabee, Kellyanne Conway and many more. I ask all reading this email to pray daily for President-elect Trump and Vice President-elect Pence. I pray they will stay true to their promises, return our country to a constitutional republic and may the Lord bring a great spiritual revival to America. It is time to fight the good fight!

Jared Woodfill
President, Conservative Republicans of Texas
Meanwhile, if you head over to the Harris County Republican Party Facebook page, you'll find this: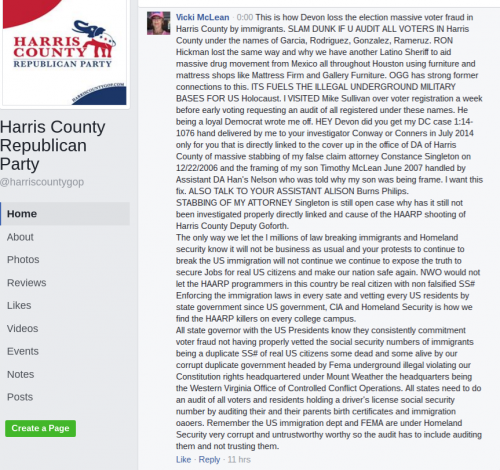 How would you like to be someone named Garcia, Rodriguez, Gonzalez, Rameruz (or someone that knows how to spell Ramirez) and see that on a political party's page? Why would anyone say that Harris County Republicans are racist?
But hey! Harris County Works!