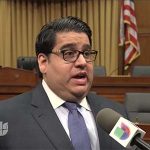 We don't have to keep losing Harris County. We didn't have to see our experienced conservative judges swept out of office, and see every elected county wide position go blue.
There will be plenty of time, in the days to come, to discuss the future of the Harris County Republican Party and of the Republican Party of Texas but for now here are some examples of the bankrupt and out of touch strategies of real party operatives, and leaders who continue to drive the bus towards the edge of the cliff. These guys decide how our Republican party approaches the growing Hispanic community. I am paraphrasing here.
"We have it all figured out, we have PHD's in a warehouse and they got it all figured out. We are calling our approach to this election the 'cracker coalition'. We don't need the Hispanic vote."
"We are going to win. The campaign will just tell the Hispanic community that it hired an Hispanic campaign manager and that the candidate's spouse is also Hispanic."
"Our polls show that Mexican American males actually agree with Trump on immigration. Even though they are upset about the rhetoric, they are more angry about having to compete for their jobs. They will vote with us come this election."
"People don't ask about immigration. Economic issues, especially issues like tax cuts, are more important to Hispanic voters in the state of Texas"
I know immigration is a very emotional issue, but we have to hash this out in the conservative grassroots or Texas will keep sliding away.
I'll say it again, in Texas, for the Hispanic community, immigration is outreach. Don't believe me, look towards California and notice what happened to the GOP. I'm not saying that returning our GOP to the ways of Reagan and W. Bush on immigration is the only solution to the challenge we face but it is a good start.
About Artemio Muniz: 
The Wall Street Journal called Artemio "Temo" Muniz "part salesman for the GOP and part agitator within it." Muniz is co-founder and chairman of the Texas Federation of Hispanic Republicans, Outreach Committee chairman for the Young Republican National Federation and board member of the Center for Latino-Jewish Relations.