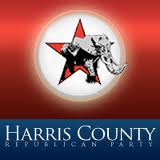 Last night's meeting of the Harris County Republican Party Executive Committee was very productive! I have several posts just from that one meeting. Can't beat that!
This one is about a resolution from the party "condemning" the pay-to-play system that is destroying the party. Precinct Chair Greg Aydt, who started working on the resolution a couple of weeks ago and gathered six co-sponsors to help passage, deserves major kudos for making this happen. Greg also happens to be a prolific conservative blogger at RhymesWithRight (obviously a play on his last name for those of you in Pasadena), so rather than blockquote his resolution here, I'd urge you to click over and view it there. He deserves your support.
Here is the money quote:
BE IT RESOLVED THAT the Harris County Republican Party condemns the practice of "pay to play" endorsements, in which supposedly independent individuals, groups, or organizations request, solicit or require any fee, payment, or contribution as a condition of making or publicizing said endorsement;
Whoa Nellie! The little fella didn't like that at all! And neither did the supporters of this wretched system, particularly the "leaders" of Senate District 7. Way too much inside baseball to try and explain everything to those of you who are new to HCRP politics – let's just say that SD7 is ruled by Sen. Dan Patrick and his supporters and they suffered a huge defeat last night.
However, you are familiar with a couple of the people that tried to thwart the effort. We last saw Clint Moore's name in the chain of emails released by State Rep. Patricia Harless when Moore tried to get a woman fired for expressing her political opinion. Valoree Swanson was also in that email chain.
Near the end of a long evening, at around 10:00 pm, an effort was made by the SD7 "leaders" to adjourn the meeting before Aydt could read his proposal. The vote failed. Then a request for a quorum call was made (the third of the evening) – it too failed. As a desperate last attempt to block the resolution, Moore and Swanson tried to get people to walk out and break quorum. I know because I was sitting right in the line of sight and watched Moore and Swanson trying to get people to leave and laughing as they thought they had succeeded. I was sitting directly behind the SD6 contingent, watching the sad display.
But a funny thing happened. When the little fella asked for a fourth quorum call, Precinct Chair Jeff Larson (also a candidate for HD129) Precinct Chair Doug Markham raised his own point of order, noting that a quorum call had just been held and you can't keep making quorum calls until you get the result you want. Chair Jared Woodfill had no option but to reject the little fella's request for a quorum call and proceed with the vote.
The resolution passed overwhelmingly.
I've talked to a couple of the SD7 precinct chairs in attendance who were embarrassed by the Moore/Swanson spectacle. Here's what I have to say to them:
Find new "leaders".
Clearly, there is a new day coming for the Harris County Republican Party. No longer will SD7 be allowed to rule the day. Just wait until all of the new precinct chairs are seated in June. Including me. 😉
I have no idea how this plays out in the race for chair but I can say a couple of things about it:
Jared Woodfill did a great job running a very contentious meeting.
Woodfill's allies hurt his candidacy last night with their attempts to foil transparency
That's all for now. Rest assured, there will be more.