Following the murder of San Antonio Police Detective Benjamin Marconi on Sunday, President-elect Donald Trump called the detective's son in a private call with no fanfare.
President-elect Donald Trump offered his condolences to the family of slain SAPD Det. Benjamin Marconi Monday, his son said.

Dane Gregory Marconi posted a Facebook status Monday evening that read: "Just got off the phone with the future president Trump, he sends his condolences to our family," according to a post made by Annie Patterson Campos, who lists herself as a crime scene  investigator for the San Antonio Police Department on her account. Campos' post has since garnered 500 shares and hundreds of likes.
Well done, President-elect Trump. Hopefully this sends a signal that cop killers will not be coddled or emboldened under the new administration.
Trump's actions are in sharp contrast to those of President Obama when cops are killed.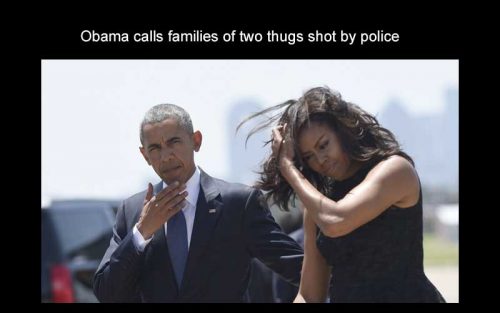 As he flew to Dallas Tuesday to pay tribute to five slain police officers, President Obama called the families of two black men who were shot and killed by police last week.

Mr. Obama called the families of Alton Sterling in Baton Rouge, Louisiana, and of Philando Castile, who was killed last week in Falcon Heights, Minnesota, "to offer his and the first lady's condolences on behalf of the American people," the White House said.